The Vent That Protects
The Vulcan Vent

:

Your First Line of

Defense From

Wildfires & Embers

.
As seen on This Old House, Vulcan Vents are designed to be fire and ember safe. An ember catching screen blocks dangerous embers during ember attacks long before the fire arrives. When a wildfire nears and the vent

reaches the critical temperature,

the intumescent coating on the matrix structure expands, creating an insulating barrier from fire and embers.

 
More on Vulcan Vents
Eave vents are available in 3.5"x 22", 5.5"x 22", 3.5"x 14", & 5.5"x 14″, as well as in round configurations.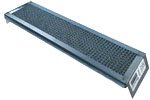 Foundation vents are available for stucco, wood construction, foam & stucco, or retro-fit applications.

Continuous & Intermittent Wildfire Resistant Ventilation for New and Existing Homes.
New Cal Metals, Inc. manufactures vents that are designed to be both ember and flame resistant.
All Vulcan Vents are designed with the same coated honeycomb technology.
Check out California Building Code Chapter 7A compliant products!