The Vent That Protects
The Vulcan Vent

:

Your First Line of

Defense From

Wildfire & Embers

.

Vulcan Vents are fire and ember safe vents designed to self-close. An ember catching screen blocks embers during ember attacks before the fire arrives. When wildfire nears and reaches critical temperature, the intumescent coating on the matrix structure expands, creating a real 'firewall'. The Vulcan Vent is approved by the California State Fire Marshal! More on Vulcan Vents
Fire and Ember Safe Vents
We manufacture vents that are both ember and flame resistant as well as C.B.C. Chapter 7A compliant. Vulcan was the Roman mythical deity of fire, and now Vulcan Vents help homes protect themselves both from wildfires and the embers they generate. What type of Vulcan do you need?
Eave vents are available in 3.5"x 22", 5.5"x 22", 3.5"x 14", & 5.5"x 14″, as well as in round configurations.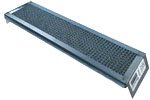 Foundation vents are available for stucco, wood construction, foam & stucco, or retro-fit applications.

Learn more about the remarkable Vulcan Vent: