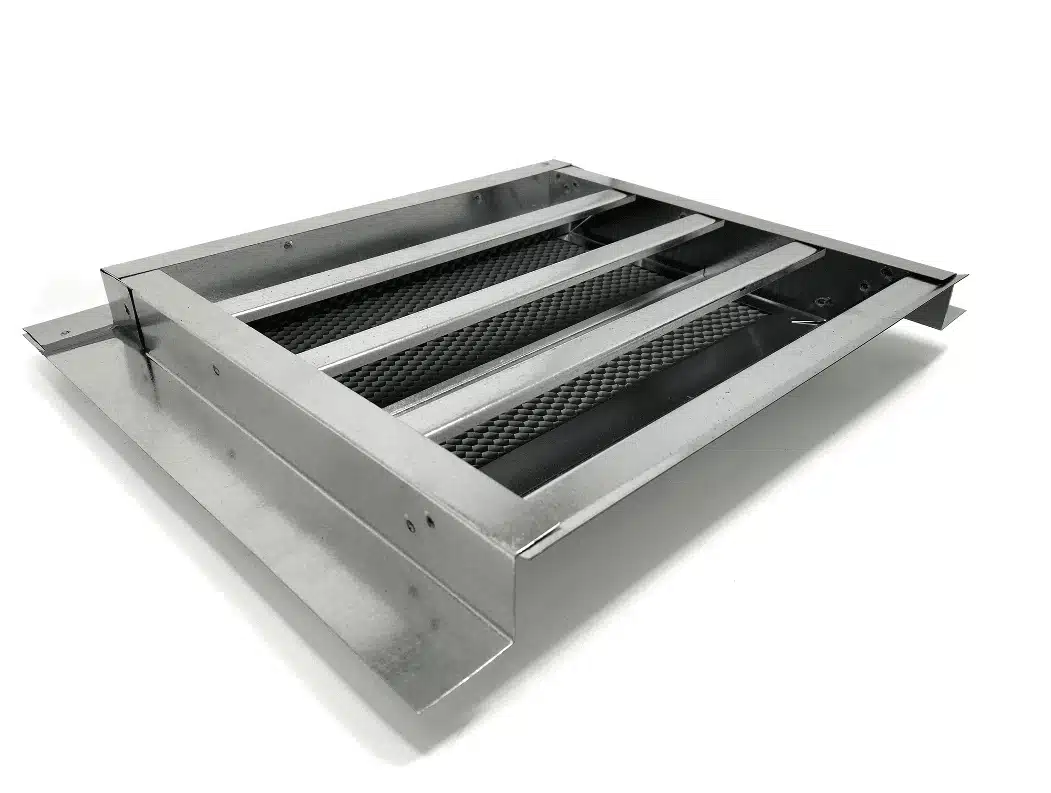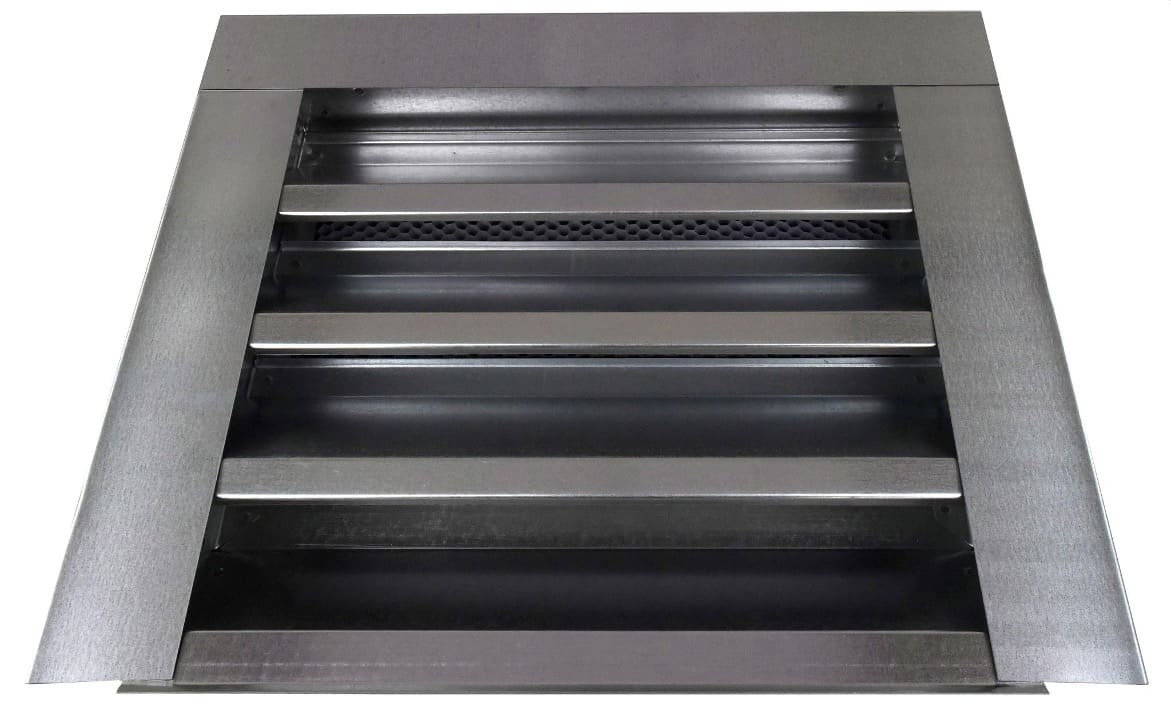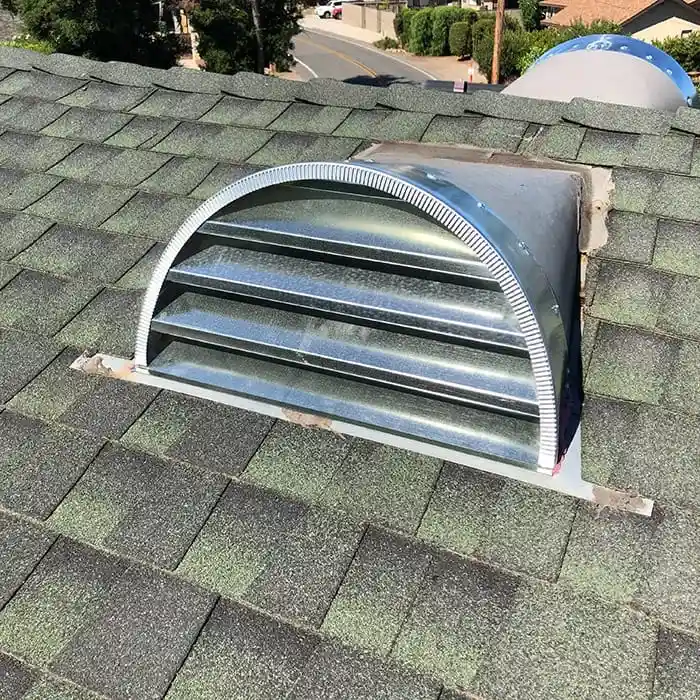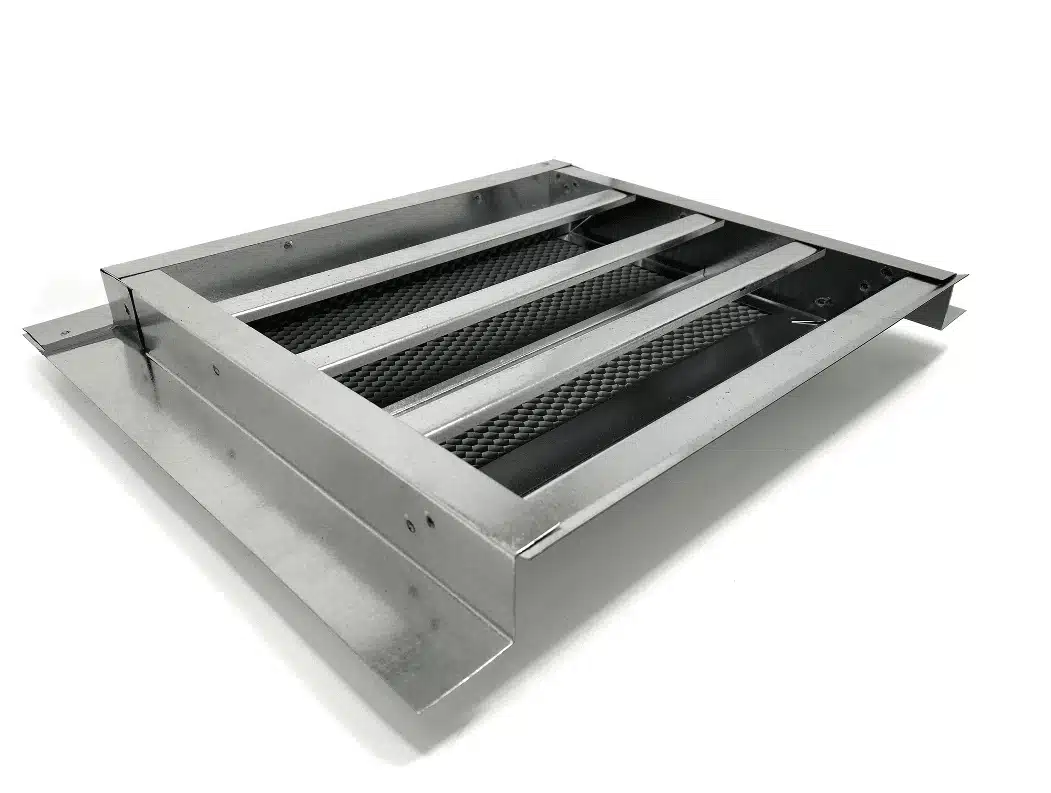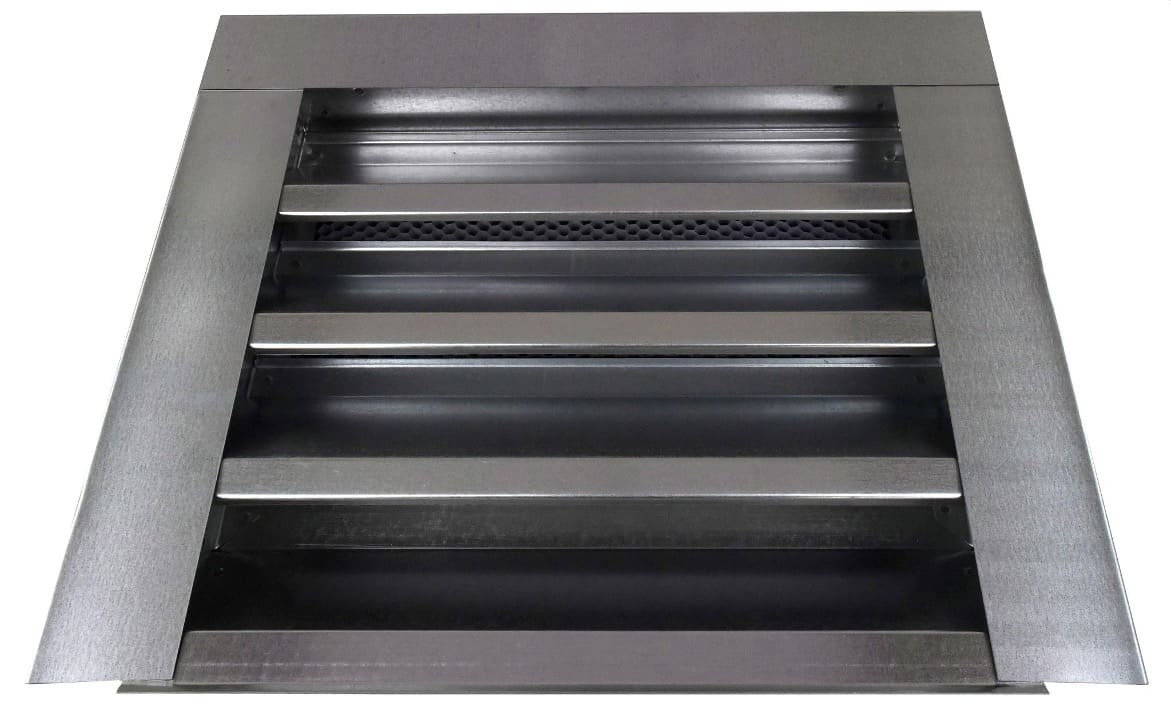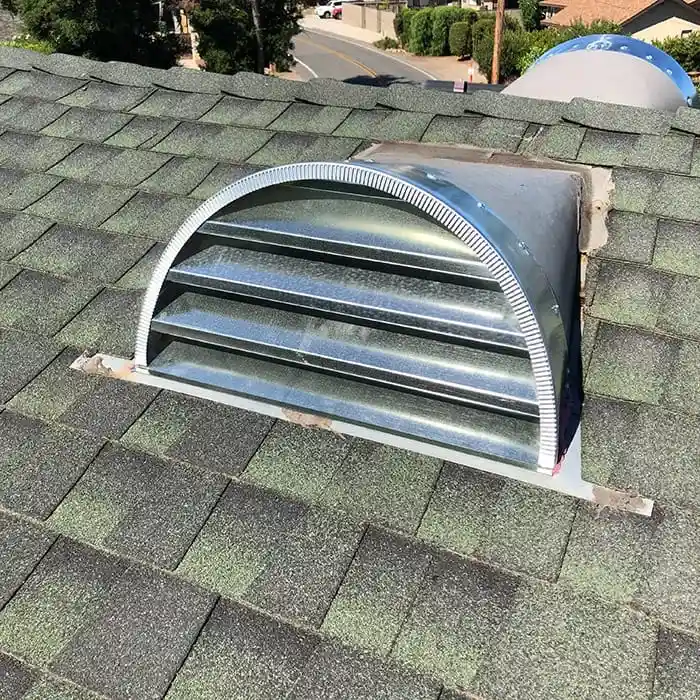 All vents should be built to protect.
Vulcan Vent retrofit kits are available to easily install mesh screening and honeycomb intumescent coating (sold together) on any vent on the house providing the ultimate protection from dangerous embers and flames. 
A safe home starts with venting. 
Kits come in a variety of dimensions and can be custom made if necessary. Vulcan Vents retrofit kits include:
Retrofit Gable End Vent/Eave Vent: Exterior
Retrofit Half Round Dormers
Retrofit Gable End Vent: Interior
Continuous Vent Retrofits
Soffit Vent/Ridge Vent Retrofits
Retrofit Half Round Dormers
VE (Vulcan Eave)
Subflashing

The Vulcan Sub Flashcan be used in conjunction with any other manufacturers' dormer or roof vent and turn it into an ember and fire-safe vent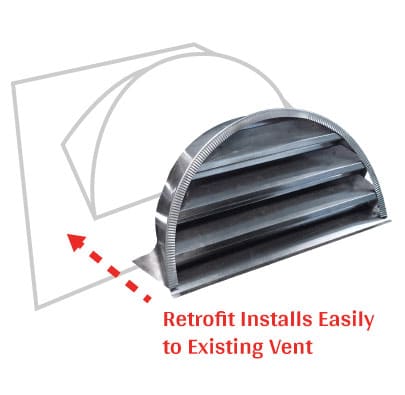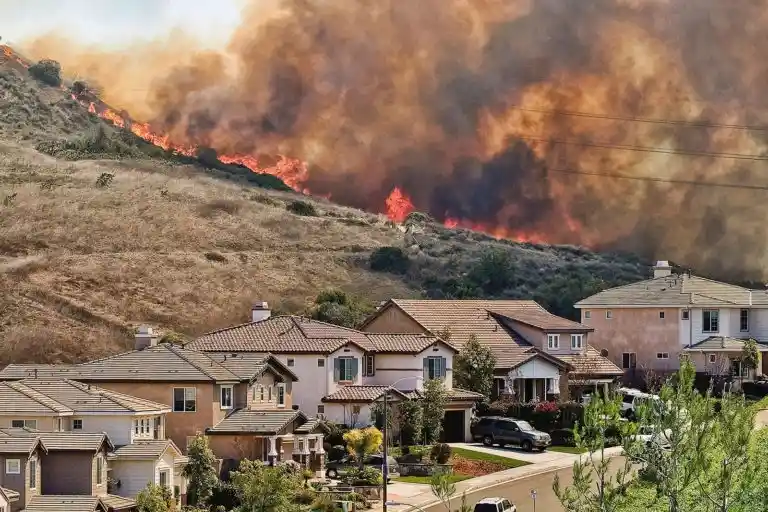 Protecting the most

vulnerable places on a home.
All vents on a home from roofing to the crawlspace must provide adequate ventilation and protection when it matters most. Vulcan Vents are meant to allow airflow while blocking vulnerable spaces from dangerous embers and flames when fire is near. 
Baffle-free design

for efficient airflow.
Ember and fire-resistant vents are required under California's Chapter 7A building codes located in high-risk fire zones otherwise known as the Wildland-Urban Interface (WUI). As such, Vulcan Vents are recommended for homes by the California State Fire Marshal (OSFM).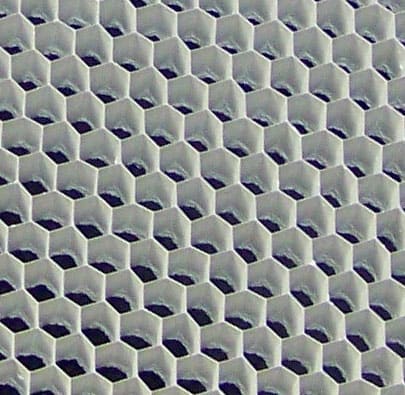 Honeycomb matrix closing technology with ember-catching screen mesh built into galvanized steel frame
Baffle-free design for maximum airflow (NFVA) to keep your home dry
Designed to meet the new California Building code State Fire Marshal (OSFM) 12 Chapter 7A of the California Wildland-Urban Interface (WUI) fire code program
Passed the American Society for Testing and Materials (ASTM) E2886 to effectively block ember entry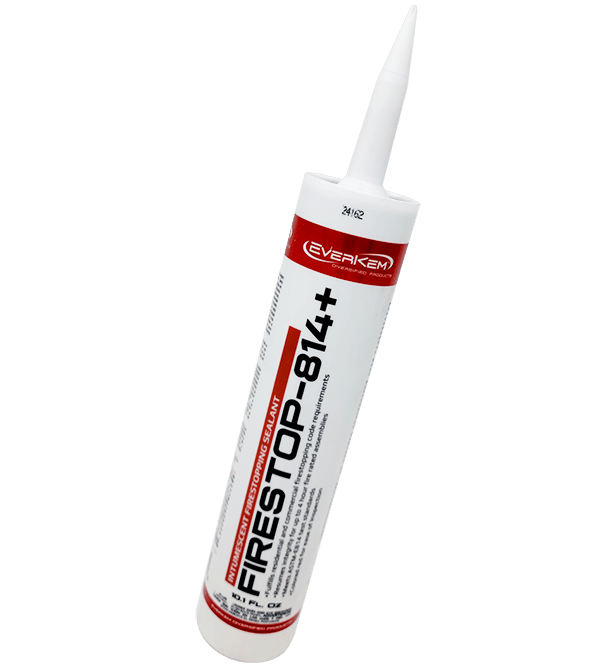 Use EverKem Fire Caulking
We recommend using EverKem 814+, intumescent fire caulking with all installation of Vulcan Vents.

Our round eave vents are the exception: EverKem 136, mortar based caulking should be used when mounting hardware isn't an option and flanges are minimal.

INSTALLATION: Prior to installing the vent, run a bead of EverKem

behind

the nailing flange to ensure an air tight seal where the vent meets the building material. This ensures that no gaps are present between the vent and your building material where flying embers might enter!
For ordering information, visit out our Store Locator for nearest retailers.
It's time for your home to protect itself.
 * For coastal environments, copper, stainless or powder coated finishes are highly recommended. *
Vent Types
Standard Finishes
G90 Galvanized, Stainless, Copper, Bonderized
Mfg. Part #
Description
NFVA

(square inches)

Flange Style
Cut Out

(inches)

Spec. Sheet

(download)

Sample Image
VDHR1224
12" x 24" HALF ROUND dormer VENT
90
Standard
N/A
VDHR1224R
12" x 24" RETROFIT HALF ROUND dormer VENT W/ SOFT ZINC HOOD
90
Retrofit
N/A
VDHR918
9" x 18" HALF ROUND dormer VENT
51
Standard
N/A
VDHR918R
9" x 18" RETROFIT HALF ROUND dormer VENT W/ SOFT ZINC HOOD
51
Retrofit
N/A
VDLR419
4" x 19" LOW PROFILE VENT "EYEBROW"
52
Standard
N/A
VE3514
3.5" x 14" TABBED EAVE VENT
24
Standard
2x4 Rafters - 16" OC
VE3514RT
3.5" x 14" REVERSE TAB EAVE VENT
24
Reverse Tab
2x4 Rafters - 16" OC
VE3522
3.5" x 22" TABBED EAVE VENT
41
Standard
2x4 Rafters - 24" OC
VE3522FB
3.5" x 22" FOAM BACK FLANGE SET BACK 1-1/2"
41
Foam Back
3.5 X 22
VE3522FC
3.5" x 22" FIBER CEMENT FLANGE recessed 3/8"
41
Fiber Cement
3.5 X 22
VE3522FF
3.5" x 22" FLANGE FRONT
41
Standard
3.5 X 22
VE3522RT
3.5" x 22" REVERSE TAB EAVE VENT
41
Reverse Tab
2x4 Rafters - 24" OC
VE3522S
3.5" x 22" STUCCO SET BACK 3/4"
41
Stucco
3.5 X 22
VE5514
5.5" x 14" TABBED EAVE VENT
44
Standard
2x6 Rafters - 16" OC
VE5514RT
5.5" x 14" REVERSE TAB EAVE VENT
44
Reverse Tab
2x6 Rafters - 16" OC
VE5522
5.5" x 22" TABBED EAVE VENT
75
Standard
2x6 Rafters - 24" OC
VE5522FB
5.5" x 22" FOAM BACK FLANGE SET BACK 1-1/2"
75
Foam Back
5.5 X 22
VE5522FC
5.5" x 22" FIBER CEMENT FLANGE recessed 3/8"
75
Fiber Cement
5.5 X 22
VE5522FF
5.5" x 22" FLANGE FRONT
75
Standard
5.5 X 22
VE5522RT
5.5" x 22" REVERSE TAB EAVE VENT
75
Reverse Tab
2x6 Rafters - 24" OC
VE5522S
5.5" x 22" STUCCO SET BACK 3/4"
75
Stucco
5.5 X 22
VE7514
7.5" x 14" TABBED EAVE VENT
75
Standard
2x8 Rafters - 16" OC
VE7514RT
7.5" x 14" REVERSE TAB EAVE VENT
75
Reverse Tab
2x8 Rafters - 16" OC
VE7522
7.5" x 22" TABBED EAVE VENT
119
Standard
2x8 Rafters - 24" OC
VE7522FB
7.5" x 22" FOAM BACK FLANGE SET BACK 1-1/2"
119
Foam Back
7.5 X 22
VE7522FC
7.5" x 22" FIBER CEMENT FLANGE recessed 3/8"
119
Fiber Cement
7.5 X 22
VE7522FF
7.5" x 22" FLANGE FRONT
119
Standard
7.5 X 22
VE7522RT
7.5" x 22" REVERSE TAB EAVE VENT
119
Reverse Tab
2x8 Rafters - 24" OC
VE7522S
7.5" x 22" STUCCO SET BACK 3/4"
119
Stucco
7.5 X 22
VER2
2" ROUND LOUVERED FACE FIRE VENT
1
Round
2 Round Hole
VER2M
2" ROUND MESH FACE FIRE VENT
2
Round
2 Round Hole
VER3
3" ROUND LOUVERED FACE FIRE VENT
2
Round
3 Round Hole
VER3M
3" ROUND MESH FACE FIRE VENT
4
Round
3 Round Hole
VER4
4" ROUND LOUVERED FACE FIRE VENT
4
Round
4 Round Hole
VER4M
4" ROUND MESH FACE FIRE VENT
8
Round
4 Round Hole
VFS414FB
4" x 14" FOAM BACK FLANGE SET BACK 1-1/2"
24
Foam Back
3.5 X 13.5
VFS414FC
4" x 14" FIBER CEMENT FLANGE SET BACK 3/8"
24
Fiber Cement
3.5 X 13.5
VFS414FF
4" x 14" FLANGE FRONT
24
Flange Front, Retrofit
3.5 X 13.5
VFS414S
4" x 14" STUCCO SET BACK 3/4"
24
Stucco
3.5 X 13.5
VFS614FB
6" x 14" FOAM BACK FLANGE SET BACK 1-1/2"
41
Foam Back
5.5 X 13.5
VFS614FC
6" x 14" FIBER CEMENT FLANGE SET BACK 3/8"
41
Fiber Cement
5.5 X 13.5
VFS614FF
6" x 14" FLANGE FRONT
41
Flange Front, Retrofit
5.5 X 13.5
VFS614S
6" x 14" STUCCO SET BACK 3/4"
41
Stucco
5.5 X 13.5
VFS814FB
8" x 14" FOAM BACK FLANGE SET BACK 1-1/2"
62
Foam Back
7.5 X 13.5
VFS814FC
8" x 14" FIBER CEMENT FLANGE SET BACK 3/8"
62
Fiber Cement
7.5 X 13.5
VFS814FF
8" x 14" FLANGE FRONT
62
Flange Front, Retrofit
7.5 X 13.5
VFS814S
8" x 14" STUCCO SET BACK 3/4"
62
Stucco
7.5 X 13.5
VG1412FB
14" x 12" FOAM BACK FLANGE recessed 1-1/2"
58
Foam Back
14 X 12
VG1412FC
14" x 12" FIBER CEMENT FLANGE recessed 3/8"
58
Fiber Cement
14 X 12
VG1412FF
14" x 12" FLANGE FRONT
58
Flange Front
14 X 12
VG1412FM
14" x 12" FLANGE MIDDLE recessed 1-5/16"
58
Recessed
14 X 12
VG1412R
14" x 12" RETROFIT FLANGE recessed 2-5/8"
58
Retrofit
14 X 12
VG1412S
14" x 12" FLANGE SET BACK 3/4" STUCCO
58
Stucco
14 X 12
VG1418FB
14" x 18" FOAM BACK FLANGE recessed 1-1/2"
86
Foam Back
14 X 17.5
VG1418FC
14" x 18" FIBER CEMENT FLANGE recessed 3/8"
86
Fiber Cement
14 X 17.5
VG1418FF
14" x 18" FLANGE FRONT
86
Flange Front
14 X 17.5
VG1418FM
14" x 18" FLANGE MIDDLE recessed 1-5/16"
86
Recessed
14 X 17.5
VG1418R
14" x 18" RETROFIT FLANGE recessed 2-5/8"
86
Retrofit
14 X 17.5
VG1418S
14" x 18" FLANGE SET BACK 3/4" STUCCO
86
Stucco
14 X 17.5
VG1424FB
14" x 24" FOAM BACK FLANGE recessed 1-1/2"
115
Foam Back
14 X 23.5
VG1424FC
14" x 24" FIBER CEMENT FLANGE recessed 3/8"
115
Fiber Cement
14 X 23.5
VG1424FF
14" x 24" FLANGE FRONT
115
Standard
14 X 23.5
VG1424FM
14" x 24" FLANGE MIDDLE recessed 1-5/16"
115
Recessed
14 X 23.5
VG1424R
14" x 24" RETROFIT FLANGE recessed 2-5/8"
115
Retrofit
14 X 23.5
VG1424S
14" x 24" FLANGE SET BACK 3/4" STUCCO
115
Stucco
14 X 23.5
VG148FB
14" x 8" FOAM BACK FLANGE recessed 1-1/2"
29
Foam Back
14 X 7.5
VG148FC
14" x 8" FIBER CEMENT FLANGE recessed 3/8"
29
Fiber Cement
14 X 7.5
VG148FF
14" x 8" FLANGE FRONT
29
Flange Front
14 X 7.5
VG148FM
14" x 8" FLANGE MIDDLE recessed 1-5/16"
29
Recessed
14 X 7.5
VG148R
14" x 8" RETROFIT FLANGE recessed 2-5/8"
29
Retrofit
14 X 7.5
VG148S
14" x 8" FLANGE SET BACK 3/4" STUCCO
29
Stucco
14 X 7.5
VM1424
14" x 24" NFVA DEPENDANT ON OPENINGS
Dependant
Retrofit, Vulcan Matrix
N/A
VM2424
24" x 24" NFVA DEPENDANT ON OPENINGS
Dependant
Retrofit, Vulcan Matrix
N/A
VM4824
48" x 24" NFVA DEPENDANT ON OPENINGS
Dependant
Retrofit, Vulcan Matrix
N/A
VSB1212
12" x 12" WITH 3" FLANGES ON ALL 4 SIDES
105
Sub Base
13 X 13
VSB7519
7.5" x 19" WITH 3" FLANGES ON ALL 4 SIDES
108
Sub Base
8 X 20
VSB8585
8.5" x 8.5" WITH 3" FLANGES ON ALL 4 SIDES
54
Sub Base
10 X 10
VSC1120RV
1" x 120" STANDING SEEM RIDGE FLANGE
50
Standard
N/A
VSC2120
2" x 120" NAILING FLANGE ON BOTH SIDES
96
Standard
N/A
VSC2120FF
2" x 120" FLANGE FRONT
96
Flange Front
2" cut to length
VSC2120R
2" x 120" NO FLANGE CONTINUOUS RETROFIT
96
Retrofit
N/A
VSC2120SL
2" x 120" SINGLE NAILING FLANGE
96
Nailing
N/A
VSC2120SMC34
2" x 120" STUCCO MILCOR 3/4"
96
Stucco
N/A
VSC2120SMC78
2" x 120" STUCCO MILCOR 7/8"
96
Stucco
N/A
VSC25120
2.5" x 120" NAILING FLANGE ON BOTH SIDES
120
Standard
N/A
VSC25120FF
2.5" x 120" FLANGE FRONT
120
Flange Front
2.5" X cut to length
VSC25120R
2.5" x 120" NO FLANGE CONTINUOUS RETROFIT
120
Retrofit
N/A
VSC25120SL
2.5" x 120" SINGLE NAILING FLANGE
120
Nailing
N/A
VSC25120SMC34
2.5" x 120" STUCCO MILCOR 3/4"
120
Stucco
N/A
VSC25120SMC78
2.5" x 120" STUCCO MILCOR 7/8"
120
Stucco
N/A
VSC3120
3" x 120" NAILING FLANGE ON BOTH SIDES
144
Standard
N/A
VSC3120FF
3" x 120" FLANGE FRONT
144
Flange Front
3" X cut to length
VSC3120R
3" x 120" NO FLANGE CONTINUOUS RETROFIT
144
Retrofit
N/A
VSC3120SL
3" x 120" SINGLE NAILING FLANGE
144
Nailing
N/A
VSC3120SMC34
3" x 120" STUCCO MILCOR 3/4"
144
Stucco
N/A
VSC3120SMC78
3" x 120" STUCCO MILCOR 7/8"
144
Stucco
N/A
VSC35120
3.5" x 120" NAILING FLANGE ON BOTH SIDES
168
Standard
N/A
VSC35120FF
3.5" x 120" FLANGE FRONT
168
Flange Front
3.5" X cut to length
VSC35120SL
3.5" x 120" SINGLE NAILING FLANGE
168
Nailing
N/A
VSC35120SMC34
3.5" x 120" STUCCO MILCOR 3/4"
168
Stucco
N/A
VSC35120SMC78
3.5" x 120" STUCCO MILCOR 7/8"
168
Stucco
N/A
VSC4120
4" x 120" NAILING FLANGE ON BOTH SIDES
192
Standard
N/A
VSC4120FF
4" x 120" FLANGE FRONT
192
Flange Front
4" X cut to length
VSC4120IF
4" X 120" INSPECTION VENT - BALCONY & DECK
192
Flange Front, Inspection
4.25" x 120.125"
VSC4120R
4" x 120" NO FLANGE CONTINUOUS RETROFIT
192
Retrofit
N/A
VSC4120SL
4" x 120" SINGLE NAILING FLANGE
192
Nailing
N/A
VSC4120SMC34
4" x 120" STUCCO MILCOR 3/4"
192
Stucco
N/A
VSC4120SMC78
4" x 120" STUCCO MILCOR 7/8"
192
Stucco
N/A
VSC424IF
4" X 24" INSPECTION VENT - BALCONY & DECK
39
Flange Front, Inspection
4.25" x 24.125"
VSC436IF
4" X 36"INSPECTION VENT - BALCONY & DECK
58
Flange Front
4.25" x 36.125"
VSC448IF
4" X 48" SOFFIT VENT-INSPECTION
77
Flange Front, Inspection
4.25" x 48.125"
VSC460IF
4" X 60" INSPECTION VENT - BALCONY & DECK
96
Flange Front, Inspection
4.25" x 60.125"
VSC472IF
4" X 72" INSPECTION VENT - BALCONY & DECK
115
Flange Front, Inspection
4.25" x 72.125"
VSC5120
5" x 120" NAILING FLANGE ON BOTH SIDES
240
Standard
N/A
VSC5120FF
5" x 120" FLANGE FRONT
240
Flange Front
5" X cut to length
VSC5120R
5" x 120" NO FLANGE CONTINUOUS RETROFIT
240
Retrofit
N/A
VSC5120SL
5" x 120" SINGLE NAILING FLANGE
240
Nailing
N/A
VSC5120SMC34
5" x 120" STUCCO MILCOR 3/4"
240
Stucco
N/A
VSC5120SMC78
5" x 120" STUCCO MILCOR 7/8"
240
Stucco
N/A
VSC6120
6" x 120" NAILING FLANGE ON BOTH SIDES
288
Standard
N/A
VSC6120FF
6" x 120" FLANGE FRONT
288
Flange Front
6" X cut to length
VSC6120R
6" x 120" NO FLANGE CONTINUOUS RETROFIT
288
Retrofit
N/A
VSC6120SL
6" x 120" SINGLE NAILING FLANGE
288
Nailing
N/A
VSC6120SMC34
6" x 120" STUCCO MILCOR 3/4"
288
Stucco
N/A
VSC6120SMC78
6" x 120" STUCCO MILCOR 7/8"
288
Stucco
N/A