If your community is within .5 miles of unpopulated and undeveloped wildland, you live in the Wildland-Urban Interface, the WUI, as it is called in California.
This WUI is the area where the communities and farms end and nature begins.
The wildland urban interface covers approximately 40% of all new development in the United States, so four in ten new  home owners are affected, and some may not know about it. Perhaps because their new neighborhood is tightly packed with newly built houses and roads, a sense of false security may take hold. This may happen whilst the nearest fire department is forty or more miles away and is responsible for containing fires hundreds of times larger than metro fire departments.
As you may have guessed, the WUI is the zone of transition between wild and human occupied land. As it is human for us to forget, the natural landscape takes no fire precautions, especially in the summer when the temperatures go up. Millions of acres of highly flammable material surrounds the WUI in California alone, capable of creating ember attacks on buildings even ones with defensible space (as you may know, our fire-resistant vent is good for defense against ember attacks).
Are we advocating staying away from the WUI? Absolutely not!
 Without a doubt some of the best places to live in the country are right smack in the middle of the wildland urban interface. That's no reason at all to not live there, as long as you know to have defensible space and Vulcan Vents.
To prepare your defensible space, clear at least 100 ft of brush, high grasses, shrubs, and small trees that would allow a wildfire to get a hold of your building, and ensuring any large tree branches stay trimmed so as they will not fall on your road or structure which could keep you from escaping. 
'What You Need To Know About California's New Building Codes
Protecting a building from wildfire takes a two-pronged approach:
Remove flammable materials from around the building
Construct the building of fire resistant material
The law requires that homeowners do fuel modification to 100 feet (or the property line) around their buildings to create a defensible space for firefighters and to protect their homes from wildfires.
New building codes will protect buildings from being ignited by flying embers which can travel as much as a mile away from the wildfire.  
See a near real time graphical display of all the fires of the last 24 hrs anywhere in the world, here.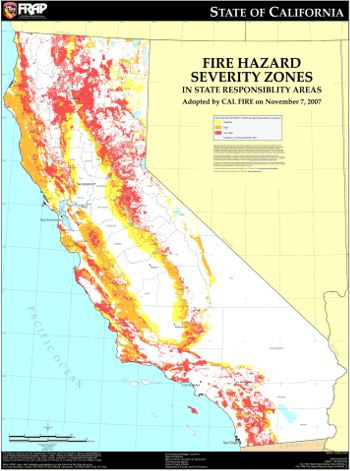 "Slide copies September 1990, Corsica" by alh1 is licensed under CC BY-ND 2.0